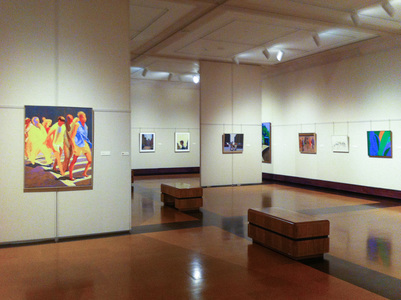 Washington County Museum
A partnership between the Washington County Museum of Fine Arts, Gettysburg College, and Mercersburg Academy, this retrospective exhibition celebrates the prolific career of nationally known artist William Clutz (b. 1933). The exhibition includes works drawn from the collections of all three institutions, illustrating his professional beginnings in 1956 in New York City through 2013. The artist grew up in Mercersburg PA and attended classes at the Washington County Museum of Fine Arts at the Mercersburg Academy which had no art program. He received a degree in art from The University of Iowa in 1955. Following its premier at the WCMFA, the exhibition will be on view at the Schmucker Gallery, on the campus of Gettysburg College, from September 9 – December 9, 2016. A catalogue, featuring selected works, will accompany the exhibition.

Installation views are from the exhibit at Washington County Museum of Fine Arts, 2016.
---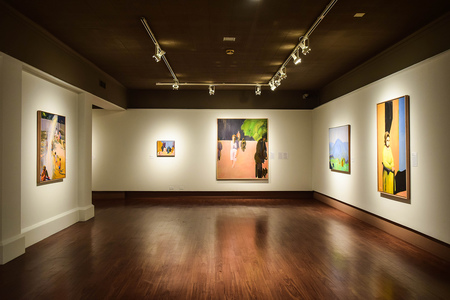 Schmucker Art Gallery, Gettysburg College
This exhibition by renowned American artist William Clutz celebrates his recent gift of artworks to Gettysburg College and is organized in partnership with the Washington County Museum of Fine Arts (WCMFA) in Hagerstown, Maryland.
The exhibition features twenty-four pastels, drawings and large-scale paintings from the collections at the WCMFA, Mercersburg Academy, and Gettysburg College. Clutz arrived in New York in the 1950s as a peripatetic flâneur, walking and biking through the streets of his Lower East Side neighborhood, astutely observing his fellow passers-by, and depicting them with a concerted awareness of the concentrated colors and painterly directness of the contemporary Abstract Expressionists.

William Clutz was born in Gettysburg, Pa. 4 generations of his family lived there. His early life was spent mostly in Mercersburg, Pa, where he attended Mercersburg Academy. His early art education and exhibition career centered around the Washington County Museum of Fine Arts. Clutz wanted a retrospective collection of his work to be in these educational institutions that were so important to his development.

September 9 - December 9, 2016